Do you ever feel like you keep going and going and you just can't keep up? That's how I feel. There is a never ending stream of things to do. Just when I think I am catching up, more stuff piles up. Having twins and a full time job, and Hubby having a full time job, is very stressful. If you are pregnant with twins, do everything you can to either stay home or work part time. Although, I think if we worked the same schedule it would be a lot easier. As it is now, it is like we are each single parents. We only really see each other on Sundays. But our Sundays are filled with things we have to get done. It's exhausting!
The girls are doing great! This is such a fun stage! They interact with each other a lot, including grabbing onto each others onesies and pulling each other down from standing. Ahh, they love each other.
I have started planning their First Birthday party!!! Can you believe they are going to be ONE?!? I can't. People always said it flies by, but I didn't realize how fast it would go!
And now, some pictures!
Maya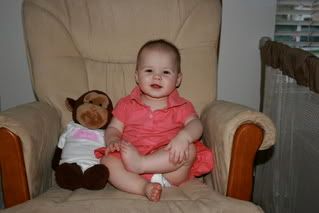 Sofia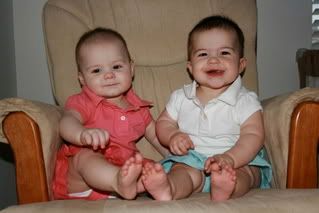 And this is what happens if you don't take the pictures fast enough