Well, a lot has been happening! We are in escrow for the house! We should close sometime next week. Of course, I am still nervous they won't fund the loan, and I think I won't stop being nervous until we have the keys in hand. So, I don't think I ever posted details about the house. The first time we looked at it, I didn't like it. I think that there was some stuff in the house and I just didn't like it. We then looked at other houses and put other offers in. Then we got a call saying the offer on that house was accepted! So I agreed to go look at it again, but I told hubby that I probably would still not like it. I was wrong! I did like it. I don't even know what I didn't like to begin with. Sure, it needs some work. The carpets need to be cleaned, but our realtor said they would be cleaned. It needs paint too. But really, it is just cosmetic stuff that can be fixed over time. It is a large house and the price we got it for is really good.
Details:
1900 square feet
4 bedrooms, 2 1/2 baths
living room, dining room, family room, and a bonus room upstairs which will be the play area! There is also an eating area in the kitchen.
The backyard is a good size, especially for San Diego.
Great area, great schools
garage w/ storage cupboards already installed
I am very excited!
---
Ok, here are pictures! Now, it needs some work- we will be tiling asap and painting. The paint color downstairs actually looks better in the pics than in real life! And I didn't get good pics of the extra bedrooms b/c they are small, so I'm not posting them.
Living room when you enter
Dining room that is attached to living room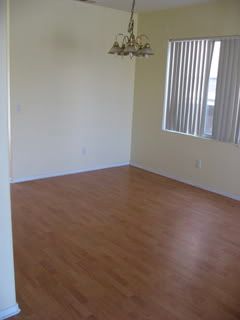 kitchen
Family room. I'm standing in the kitchen taking the picture
Ugly runner on steps that I hope can be taken out. I'm standing in eating area off the kitchen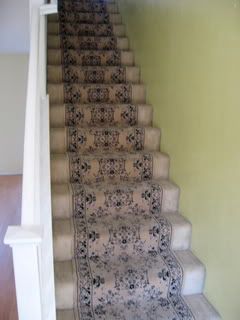 Coming up steps- bonus room
Standing in bonus room, view of rest of upstairs, the 3 extra bedrooms and bathroom
master bedroom
master bedroom- yes, walk in closet! Separate tub and shower!!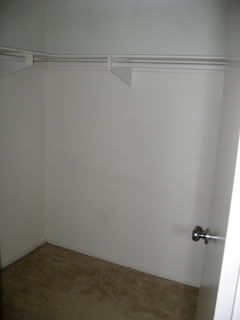 Backyard
It wraps around the side and the side area will be our dog run.