Thanks for all the nice comments!
Today I went to my school district's central office - the main office of the program I work for is there - and 3 people only had nice things to say! Such a relief after pretty much only hearing how big I am. Plus, I had a really awful comment today, so the nice ones really made up for it. The awful comment was from a co-worker at my school, she was surprised at how big I had gotten in the last week (though I don't think I am THAT much bigger) she was shocked and then told me it was like in that movie where she is pregnant with a demon and gets big over night. Wow. Thanks a LOT. So I tried to just forget that one. Later, three people at the district office told me how cute I looked! So much better than a demon comment! Nothing at all about how large I am. It was so nice.
Then, I got home and my diaper bag had arrived!! I was so excited because I bought it online from Skip Hop with a 50% off code! Here is the bag: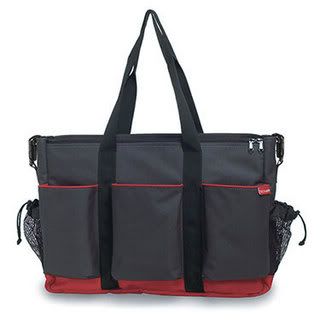 I love it! Nice and big, lots of pockets and cute!