I was scheduled for an induction on March 20th, but hoping I would go into labor on my own! Luckily, that happened! I went to bed Sunday March 16th, woke up at about 2 am to pee and when I stood up, I felt a small gush. I thought, ok that was either my water breaking or some discharge – which I had been having more of. I went to the bathroom and it had soaked through my liner, so I knew! It also kept trickling down me after I went to the bathroom. I couldn't believe it!
I got DH up, I took a shower, we made sure we had everything and went in. Now, I was a little nervous about going in at night because both times I had been at night previously I had the worst night nurses. This time, however, they were great! I was hooked up to the monitors and I was contracting, but they weren't hurting – just uncomfortable as they had been for weeks. My blood pressure was also high, but I'm pretty sure it was because I was nervous! I was also about to ask if they did have the instructions to call my doctor for delivery, but they came in and let me know they did have that. I was nervous about that since the week prior to that they did not have that info.
Finally I was admitted and taken to the labor and delivery room! A nurse came in to give me my iv, and this was probably one of the worst parts. She stuck me TWICE and couldn't get it. The other nurse came in, found another vein and got it in perfectly – finally! The on-call doctor came to check on me, and we waited awhile to see if my contractions would start up. I also wanted to wait until 7 am to start pitocin, if needed, because I really wanted my doctor to be around. A little later, the on call doctor came back, my contractions were not doing anything, so she said she would start the pitocin. I had to tell her to wait until 7, which was fine. She was just thinking I wanted to get on with it!
At 7, they started the pitocin. It wasn't bad at first, finally started getting some good contractions which got stronger. It was funny because I was fine between contractions. During the contraction, it hurt, but not super bad – definitely different than what I had imagined but not worse. It was hard for me to decide about getting the epidural since the pain wasn't super bad at the time, but it was getting worse and really what did it was that I was contracting frequently and I thought how am I going to deal with hours of contractions with little rest in between? So I got the epidural, which I was most nervous about. I didn't like getting it. I also jumped a little!!! Which of course scared me. I wasn't expecting all the pressure – even though he had said there would be pressure. But then it was done and I was fine and getting pain relief!
You would think at this point I could relax, but no way! I kept worrying about things and getting anxious and excited, so no rest for me! I had DH call our childbirth class instructor because she had said she would love to be there for the birth. DH left her a message, and I hoped she would get it! At around noon, my doctor came in to check on me and said I would start pushing at 1:15!
Finally, it was time to push! That was difficult with the epidural and I couldn't even move my legs even though I had tried to let it wear off. Thankfully, my childbirth class instructor showed up, and she was a GREAT help! DH was also fabulous with his counting and support! Now, the whole time I'm pushing I could only think: I HOPE I am making progress because I DO NOT want a c-section!!! Then, the nurses would check me and tell me I was doing great and making progress, but I didn't believe them, I kept thinking, they are only saying this to make me feel better!! I pushed for about 2 hours and the doctor was called in! I also got to see the head when it was visible. I never thought I would want to see that, but it was a HUGE motivator and really helped me.
As soon as the doctor showed up, it was pretty crazy, all these people rush in and break the bed apart, lights come down, and you know this is it! I pushed some more and finally Sofia was born! She was born at 3:21 pm weighing 6lbs 1 oz. and 18.25 inches long. Next was Maya! She came right out at 3:24 pm weighing 4 lbs. 8oz. and 17.5 inches long.
Maya had some blood sugar issues – she was borderline low, so they had to feed her formula to get that up. Luckily her blood sugar came up and she did not have to go to the NICU!
Giving birth was an amazing experience, and I am so glad and thankful that I did get to experience it.
Some Photos:
Just born:
Maya: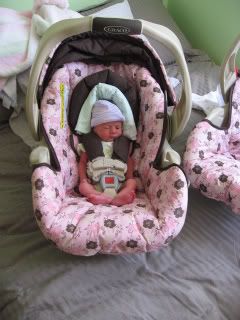 Sofia: